Why it's Time to Choose Multi-cap Funds Over Large-caps?
Learn why it's time to invest in multi-cap funds over large-cap funds.
The recent underperformance of maximum large-cap schemes has been the talk of the town. Even after the recovery of BSE Sensex by around seven percent in March this year, most of the large-cap mutual fund schemes failed to match the benchmark index and even their own set benchmarks.
This is the reason for dampened sentiments of several investors out there who were looking forward to generating higher alphas from the large-cap schemes. Thus, considering the current time as of now, investors are advised to invest in multi-cap mutual fund schemes to generate better returns than the large-cap funds. Here's why experts are asking you to shift gears.
Well yes, as per the recent re-categorization changes made by SEBI, large-cap schemes will now be confined to invest in top 100 stocks by market cap. The investment horizon has reduced to an extent, as earlier almost all of the large-cap schemes had approximate 10-12 percent of their assets in mid-cap companies which were helping them to generate good returns. In a similar way, looking at the older portfolio of mid-cap schemes, there was a bias towards large cap along with mid-cap and small-cap allocation. However, any difference in the value of returns will be due to timing the market.

As per the SEBI's new norms, large-cap funds are required to invest a minimum 80 percent in top 100 stocks compulsorily; similarly, midcap schemes from 101 to 250, whereas smallcap schemes from 251 and below. This states that the large-cap schemes cannot take exposure to mid-cap stocks nor a mid-cap scheme can take a huge exposure to large-cap stocks with an aim to make extra returns. Therefore, it is suggested that investors, who are willing to generate higher alphas, can invest in multi-cap schemes.
As stated above, the solution to the problem is just one, i.e., prefer investing in multi-cap funds. These schemes are generally biased toward large-cap stocks, and they have the freedom to move freely from one market capitalization to another, and this movement is based on the market inclination, thus helping it to generate higher alpha. According to the guidelines, SEBI allows a minimum investment of 65% in equities without any market-cap restrictions. That's the reason why these schemes deliver comparatively higher returns and also offer protection due to their large-cap orientation.
It should be noted that as the returns go higher, the risk too gets increased. Thus, before investing, the investor should check his/her risk appetite with that of the scheme. These multi-cap schemes are ideal for investors with moderate risk appetite and more extended time horizon. Now, the question is wouldn't the newly made categories of large-cap and mid-cap schemes will serve the similar purpose? The answer to this is a no as they are considered to be much riskier than multi-cap schemes.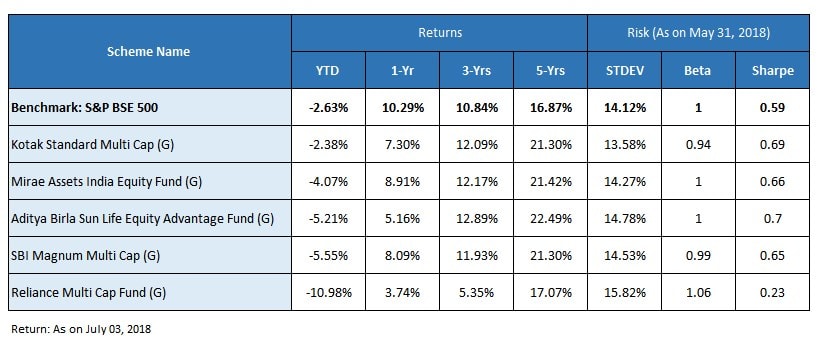 Source: MySIPonline Research Desk
Henceforth, from the above analysis, we can make out that multi-cap schemes can provide you with better returns over large-cap funds concerning the time now. To seek guidance on the recommendations mentioned above, connect with the experts working at MySIPonline. We provide top-class online investment facilities to ensure that you get the best investing experience, and always stay in the course of building significant wealth.