What Are Sector Funds And How Do They Work?
Planning to invest in a sector fund? Here's everything you should know in advance.
Going with the definition, a sector fund is a fund that concentrates its investments in a single sector of the market. It is generally categorized under mutual funds or exchange-traded funds.
Such funds are generally recommended to people who are experienced in the field of mutual funds. That too, when they have a fair knowledge of the sector that they are investing in, a high-risk appetite, and a sizeable corpus. Every industry or segment goes through cycles, and it is very important to time the entry and exit in them to make money. It is often believed that average investors would find it very difficult to time their investments. Besides, they would panic when the sector hits a rough patch. Thus, to summarize, it can be said that such funds are highly risky, but they are also known for providing exceptional returns if all went well.
Aviation– The aviation industry has witnessed a significant change in the last few years. And this is because the number of flyers in the country is steadily increasing. Thus, investing in this sector could help one's financial dreams take wings.
Telecommunication– The telecommunication sector is perhaps the most sought-after one today, with companies vying to outdo each other. Increased penetration among the residents has resulted in these companies making huge profits.
Real Estate/Development– Investing in mutual funds which are concentrated on real estate segment could offer good returns, especially if the investments are made in major companies or the companies with mid-large market capitalization.
Natural Resources– Dwindling natural resources have resulted in an exponential increase in rates. Therefore, a few fund managers are also investing companies dealing in natural resource.
Technology– The boom in the information & technology segment has changed the way the world sees India. It wouldn't be wrong to say that every major technology firm is looking to set up base here in the country. Thus, this sector is perhaps the best sector to invest in considering the present time.

SBI Technology Opportunities Fund

, ICICI Prudential Technology Fund, Aditya Birla Sun Life Digital India Fund, etc., are a few of the technology funds that are offering exceptional returns in the current market.
Healthcare and Nutrition– India's healthcare system attract patients from across the globe, and certain funds invest in the healthcare industry to cash in on this boom.
Pharmaceuticals– Similar to the healthcare sector, the pharmaceutical industry is highly sought-after, primarily due to increasing technology innovations in the country. Seeing the growth in this industry, many AMCs have recently launched several NFO associated with Pharma and healthcare segment. One of them is

ICICI Prudential Pharma Healthcare and Diagnostics (P.H.D) Fund

.

Banking & Finance- Demonetisation has breathed new life into banking sector funds. Banking segment is a reflection of macro-economy. If the macro-economy is improving, the banking sector will perform well, and so the banking sector funds.
Some of the unique features of sector funds are listed below:
Concentrated– Sector funds concentrate on a single segment of the market, allowing no room for diversification, and relying solely on the performance of that particular sector.
Term- Investments in sector funds are typically for medium to long-term, with most mutual fund managers do not prefer short-term investments. This increase in the investment time provides sufficient time and cushion for the sector to grow and reach its optimal level.
Expensive– Investing in sector funds can be a costly proposition, with most of these coming at a premium price.
Time Specific– Investing in a sector fund should be time specific, for the rewards associated with a particular market segment might diminish once reach their peak point. Thus, it becomes imperative to study the market and perform comprehensive research about the trends of a specific sector to get the most out of it.
Risky– Investing in a sector fund can be more precarious, with these mutual funds considered high-risk propositions. This risk factor is due to the lack of diversification, and reliability on a single industry.
Research Intensive– Sector funds are incredibly research-intensive, with fund managers aiming to predict their growth over a specified period.
High Returns– It is possible to get high returns through investing in sector funds, primarily if these sectors witness stable growth over a period.
Hedge– A sector fund can work as a hedge against inflation, primarily if the sector functions in a manner which is inversely proportional to the economy.
Variation– The performance of sector funds varies according to the economic cycles, with differential performance expected based on multiple factors.
Aggressive Investors– A sector fund is ideal for investors who are aggressive and do not mind taking additional risks to invest, especially in a market.
Investments made in sector funds are a matter of choice, and they are best-suited to people who don't mind taking the risk. Typically, those individuals who are aware of a sector and its performance would be suitable for this form of investment, as they know about the risks involved and could predict the returns they can generate or merely expect.
As per the experts at MySIPonline, they are not advisable to people looking for limited but steady returns, primarily due to the high risk associated with these funds.
Technology funds, pharma & healthcare funds, and infrastructure funds are the best performers in the current scenario. A few of them are listed below: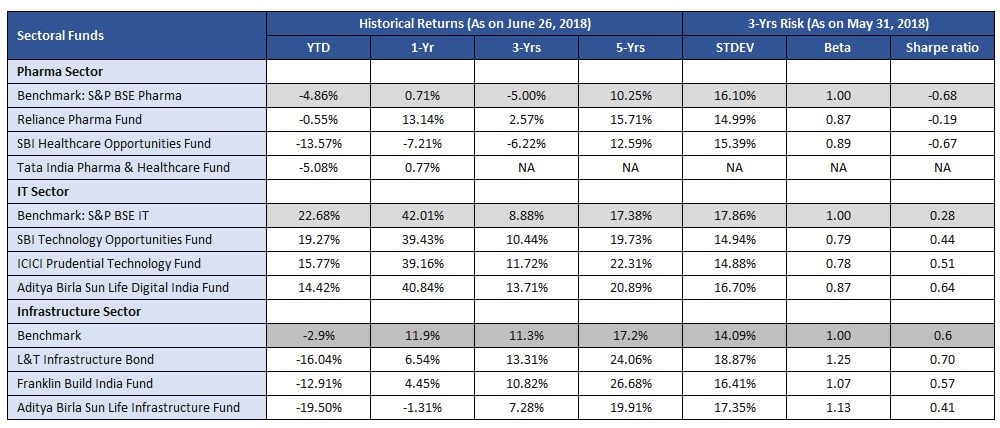 As stated above sector funds are risky in nature. Therefore, the investors with no or little knowledge of the sector should refrain from getting into them. If you already have a diversified portfolio of large, mid, and small-cap funds as well as sector funds, then it is alright. But, one should never invest in a specific sector just because it is currently performing well.
At MySIPonline, we offer experts' recommendation for every such investment, so that your investment never gets wasted and you achieve your expected goal. We guide you at every step and never mislead you or offer you a biased investment suggestion. We will be looking forward to hearing about your investment plans.
Connect with us in no time to get suggestions on the best of mutual fund recommendations as per your profile.