MF Weekly Update: Indian Equity Indices Logged Marginal Gains in the Past Week
Read this blog to find out what changed in the market in the past week.
During the past one week, first time, Sensex has crossed 38000 mark driven by healthy buying interest in energy, auto, metal, and banking stocks and positive Asian cues still, intensifying trade tensions, volatile currency, and the US sanction against Iran capped the market gains.
Table of Contents
Major Equity Indices Performance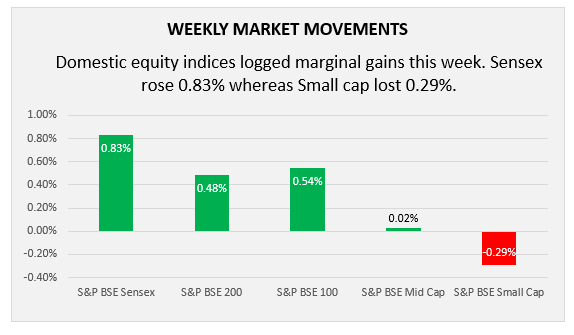 Last week, domestic equity indices logged marginal gains. Sensex up by 0.83%, BSE 200 by 0.48%, and BSE 100 by 0.54%, respectively. BSE midcap remained flat, whereas small cap index fell by 0.29%.
However, on Monday, amid positive global cues, strong buying in metal, auto, energy, Telecom, and banking stocks reached market to an all-time high of Rs 37,692. Later, the market turned into a choppy trend and ended flat. Intensifying the US-China trade war and concerns over crude oil prices due to the US sanction against Iran kept investors wary. On the third consecutive day, rally in banking, energy, auto, and metal stocks and strengthened rupee value brought market into the positive terrain. On Thursday, despite trade battle on global front, first-time, Sensex crossed 38,000 mark and settled at 38,024.37 ahead of favourable Asian cues, healthy earnings, and buying interest in FMCG and realty stocks.
Last day, the market slipped off because of a new round of the US Sanction against Russia and fallen currency.
Sectoral Indices Performance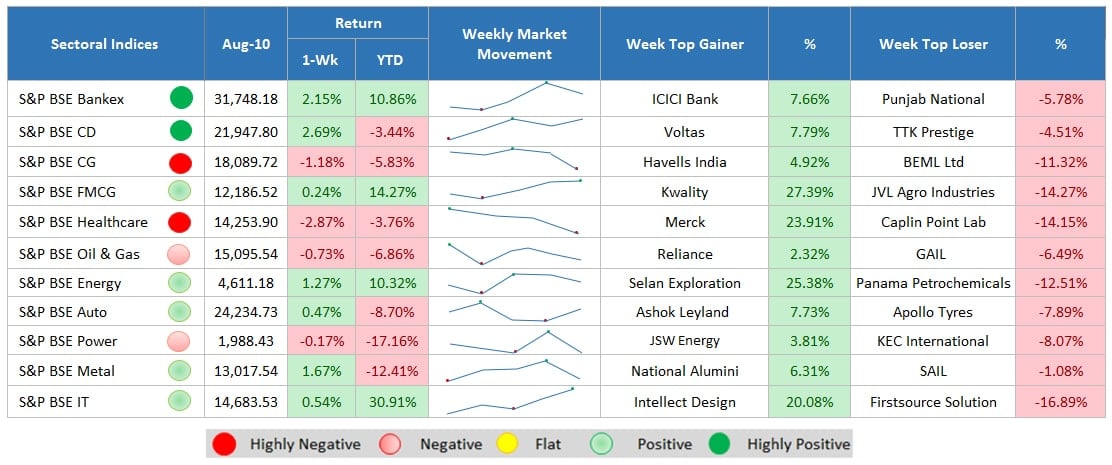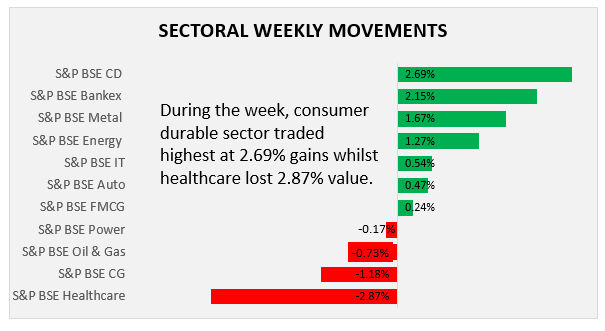 Gaining Sectors
Sectoral Indices witnessed a mixed trend this week. S&P BSE consumer durables is the market leader which returned 2.69% weekly gain followed by Bankex with 2.15% return. S&P BSE Metal and S&P BSE Energy also rallied, rose by 1.67% and 1.27%, respectively. FMCG and Auto sector traded marginally higher by 0.24% and 0.47%. Weakened currency value has benefited the IT sector, traded up by 0.54%.
Losing Sectors
S&P BSE healthcare was the top laggard, down by 2.87% followed by capital goods which lost 1.18% value. S&P BSE oil & gas marginally declined by 0.73% due to the effective imposition of the US sanction against Iran. S&P BSE power traded down by 0.17%.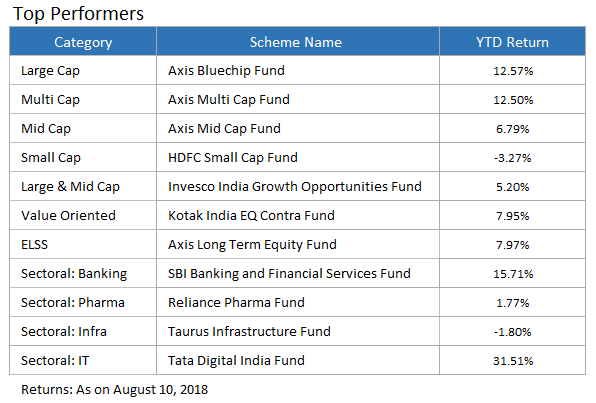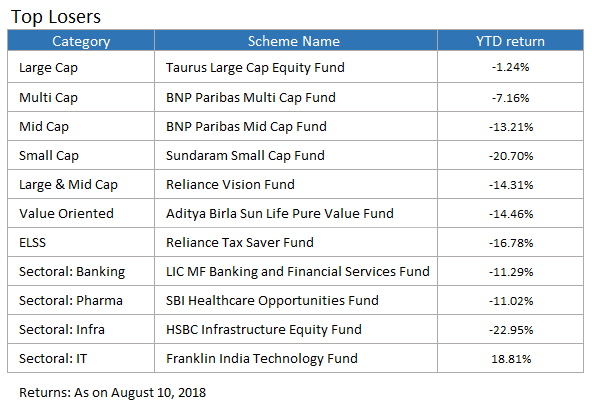 In the end note, it is clear that the battered rupee is plunging against the buoyant US dollar in the midst of weak global trends and concerns on macro-economic front. Exporting companies/sectors including IT, Pharma, textile, and chemicals will be beneficial from this rupee depreciation. Thus, investors can prefer investing in funds related to the sectors. In the era of uncertainty, one can even prefer investing in SIPs with an aim to generate profits in the long-term.
Invest in the Best Mutual Funds
100% Paperless
No Transaction Charges
Easy to Invest
Safe & Secure