SIP Investments Made Easy: Now Opt for Aadhaar-Based e-Mandate Registration
Simplify your SIP investments by completing your Aadhaar-based e-Mandate registration with MySIPonline. Learn how!
On the path of digitization, India is rapidly making progress day-by-day. It all began in the year 1980 when the first computer was launched and after that, there was no looking back.
Following which came the era of net banking, mobile banking, and similar other updates. Currently, with the Modi lehar at its peak, Aadhaar has become the defining mode of every Indian individual.
This single document is providing the basis for giving more than 1 billion Indians with undeniable access to the benefits provided by the government and various other services offered by banks and other NBFCs. With an aim to change the face of online transactions and considering the fact that Aadhaar can even help in the GDP growth of India, the government initiated the facility of internet-based services. Today, in this blog, we will talk about one such service and let you understand the steps for completing the Aadhaar-based e-Mandate registration for SIP investments with MySIPonline.
So without any further ado, let's begin the process!
Aadhaar-based e-Mandate is an innovative initiative taken by the Indian government to authenticate mandates using Aadhaar e-KYC services. It helps you authenticate your debit mandate using Aadhaar number instead of the long and hectic paper-based process.
100% paperless & hassle-free mandate registration process
It eliminates the possibility of rejections due to signature mismatch
No separate documents/proofs are required
It uses secure Aadhaar-based e-KYC services
Log into your account using your username and password.
As soon as you enter the dashboard, click on the e-Mandate option just below the main menu tab.


You will get a window where you need to select the Investor's name for whom you wish to complete the Aadhaar-based e-Mandate.
Here, you can even complete the e-Mandate registration process for any of your family members whom you have added to your investment account with MySIPonline.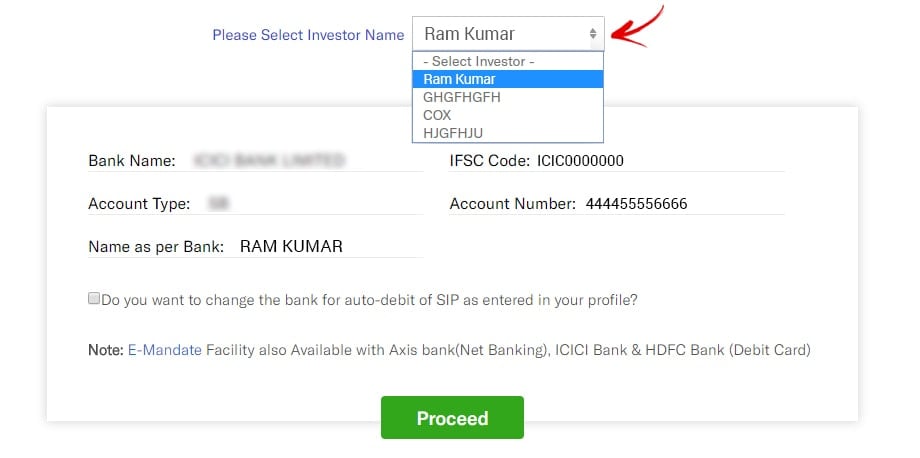 To proceed further, you can select any of the two options:

A)When you want to initiate auto-debit facility from the registered bank account:

You will see the window as mentioned below. Check all the details which include the Bank Name, IFSC Code, Account Type, Account Number, and Name as per Bank, and click proceed.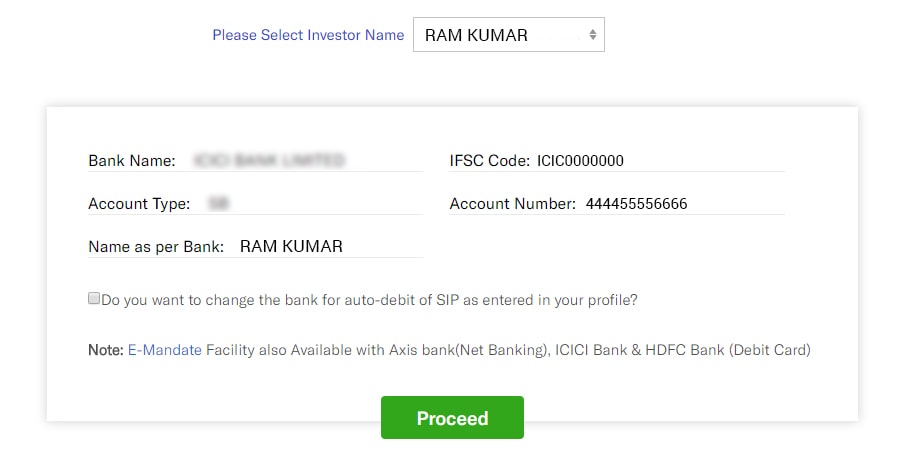 B)In case you wish to change the bank details for auto-debit of SIP as entered in your profile:

Click on the checkbox mentioned just below the already listed details. And, then click proceed after that.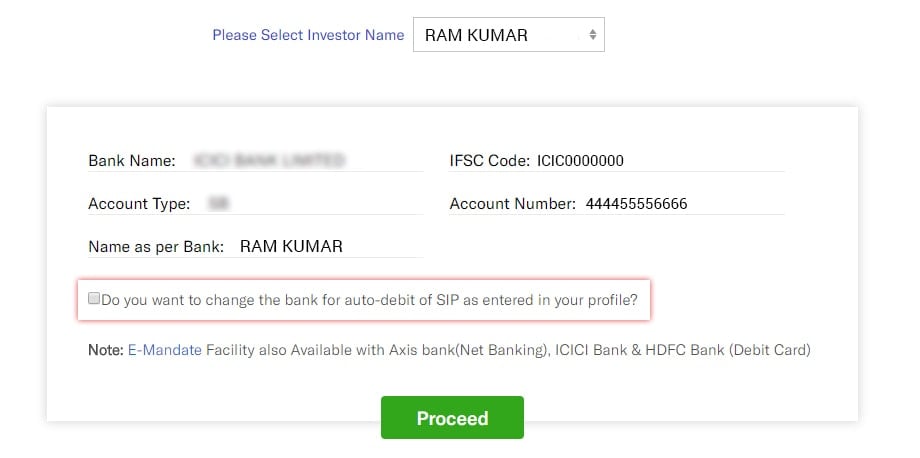 Once you click proceed, you will get a pop-up displaying all the content that you have mentioned before(in case you selected the option A). This is a confirmation window where you're required to check if the details entered are correct.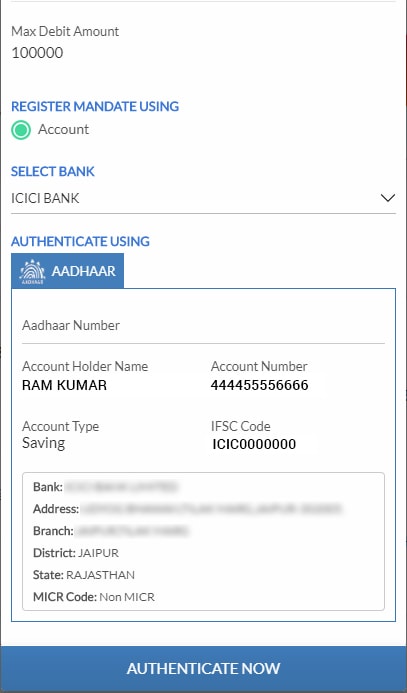 Whereas, in case you opted for B, you're required to enter the details manually.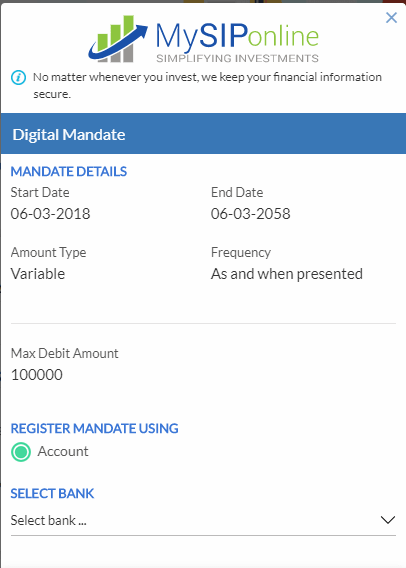 Also, you need to mention your Aadhaar card details in the 'Authenticate using Aadhaar' section. As a final approval from your side, click authenticate now.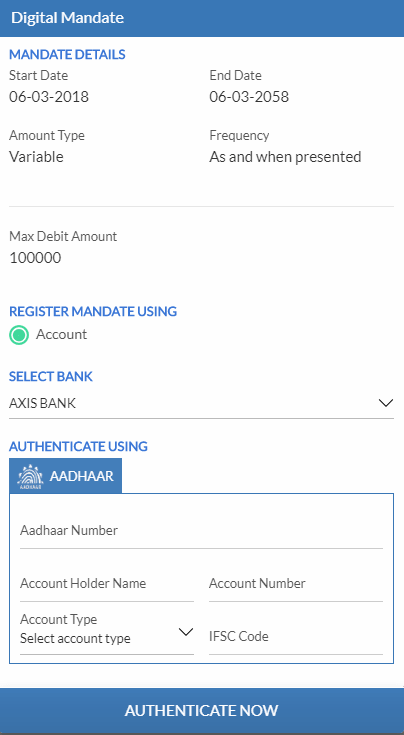 Now, you'll enter the eAuthentication portal. Go through the message displayed and click the checkbox. After accepting that the details entered are correct, you can further click Generate OTP to progress with the registration process.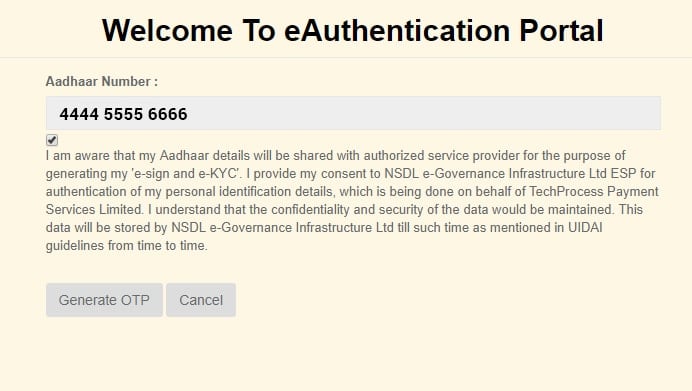 It's time when the OTP is sent to your mobile number which is registered with UIDAI. Enter the 6-digit number that you received via your cell phone and make the final click on submit button.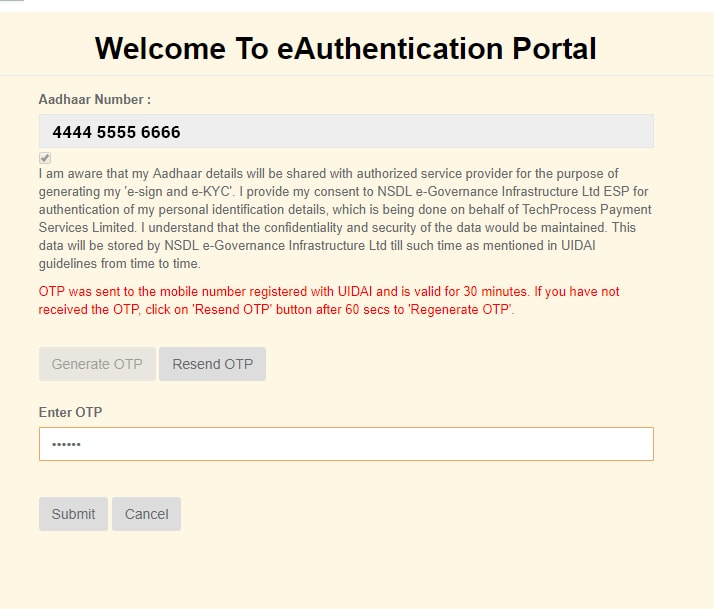 As soon as you do that, you will get a window displaying a confirmation message. Here, it states that the request you made is under process.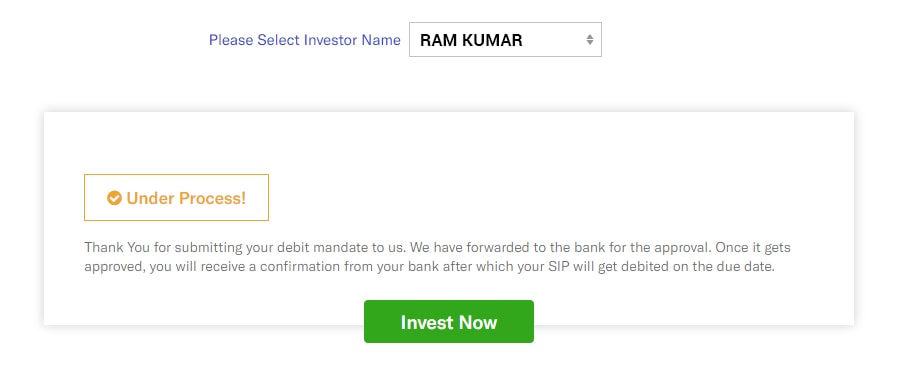 Well, Congratulations! This is the end of the Aadhaar-based e-Mandate registration process. As soon as your registration gets finished, you'll get the screen as mentioned below. Further, as a confirmation, you will also get a message from UIDAI on your registered mobile number.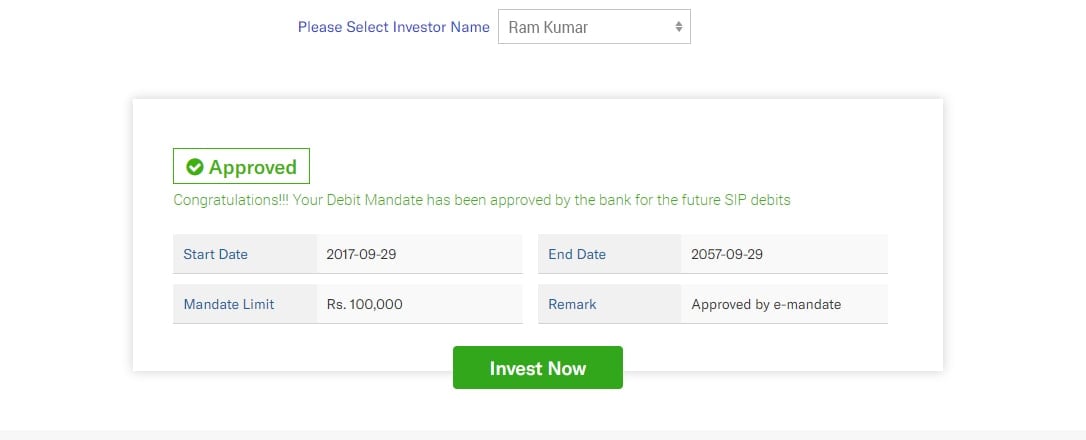 Read further to know about the features of this Aadhaar-based e-Mandate registration.
e-Mandate is an Aadhaar-based functionality; accordingly, registration of mobile number with UIDAI is mandatory for e-signing of the mandate.
Currently, the maximum limit for Aadhaar-based e-Mandate is INR 1,00,000.
Updation of Aadhaar number in the bank account on which mandate is being registered is compulsory for mandate registration.
At present, about 37 destination banks are participating in Aadhaar-based e-Mandate service.
The objective of providing this facility is to offer a simple and hassle-free alternative to you in the form of e-mandate wherein you can register mandate online, which will be digitally signed based on Aadhaar-based OTP validation.
Lastly, in case you are willing to know more about this process or need some assistance in any regard, connect our experts via phone or e-mail. We, at MySIPonline, provide the best online investment services at your doorstep. For recommendations on mutual fund investments, you can check our website or directly contact our professionals.